Essential Guide To Replacing Door Furniture
Essential Guide To Replacing Door Furniture
24 March 2017
It's March which means that Spring is in the air; and as the weather is getting warmer you may be planning some great new projects to upgrade your home. The reoccurring winter months can take their toll on your exterior metal furnishings - they may have been there since you moved in all those years ago! - and you can often find when you're out and about in the summer that those handles, knobs and various escutcheons look rusty and tired. Alternatively, maybe your tastes have changed and you're wanting to upgrade to a more durable and timeless design.
Whether you live in a modern home or a more traditional cottage, at SD Hardware we have stocked some of the most enduring and robustly designed door furniture you can find that are both simple to install and reassuringly secure. This is why we've put together our Essential Guide To Replacing Door Furniture to help you out in making the right decision.
Decide on a Finish
Before making any firm decisions on your door trim, it is important to work out if the style of furniture will be in keeping with the appearance of your property. For example if you live in a very rustic country house, the furniture itself should naturally have a more classic and simple aesthetic. Door Furniture should also ideally be consistent in colour and design; if you are looking to replace one worn out piece, we recommend replacing everything and that's why many of our products come in a variety of different finishes including polished chrome, satin chrome and polished brass to help you find the right style that is in-keeping with your home. We also have a range of black Devoran fixtures that look great on traditional houses.
What Components Do I Need?
You can't go wrong with the Dart Letter Plate. With its study design and three different finishes, it will adapt to most house styles with ease. The Alpine Door Knocker is another essential accessory; with a concealed viewing hole and various finishes, it can be matched with an Alpine letterplate and the Alpine door handle. The Devoran Sleeved Letterplate comes in an antique black and would look great to finish off any vintage property.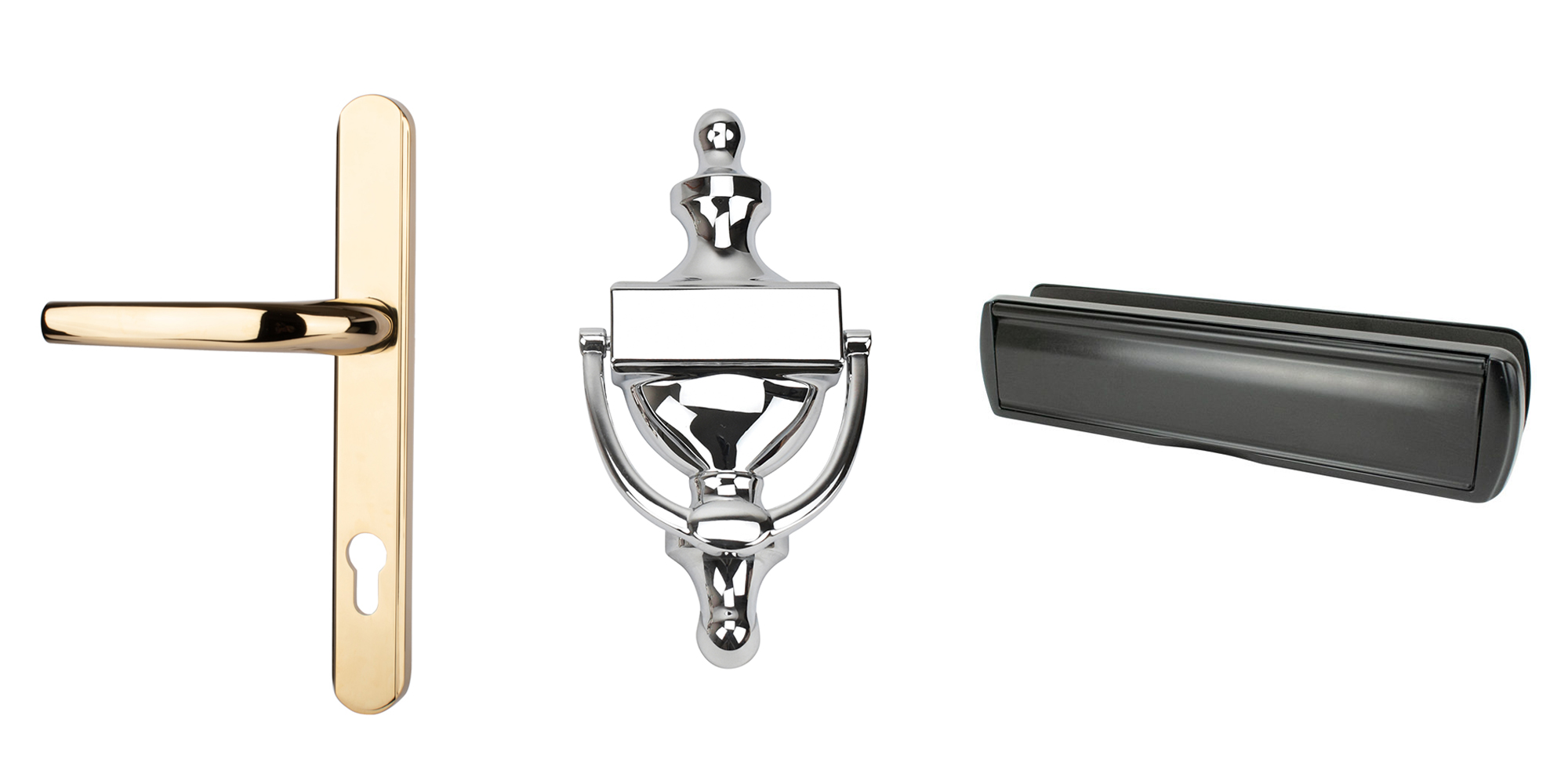 Escutcheon Essentials And Door Security
There are several great products for ensuring your home stays as secure as possible or if you're simply looking to upgrade the detail for your existing keyholes. The Yale 2 Star Security Escutcheon is a 2 star rated lock and comes complete with screws and a selection of finishes to match your existing furniture - a versatile and trustworthy choice for anyone looking to upgrade their security.
Our most practical keyhole detail comes in the form of this simple but effective Dart 2 Part Euro Escutcheon. Smart and sleek, with invisible screw fixings, this also comes in three separate finishes to match suitably to your home.
Alternatively, this Devoran 5 Lever Black Oval Escutcheon is the only lock detail you need for your more period-style houses and can be matched with a number of our other Devoran products.