The SOX Pull Handle: Adding that finishing touch to a modern front door
The SOX Pull Handle: Adding that finishing touch to a modern front door
31 August 2021
The function of any door is obvious, but what's often overlooked is the important role the design and styling of the front door plays in the overall aesthetic of a home. The front door is the one door that every homeowner touches, often multiple times, each day. So why do we not put enough consideration into ensuring this integral element of our home gives off the best first impression? Not only does the panel need to be visually striking, whether that be manufactured from timber, uPVC, aluminium, or composite, but the vision is only complete with the correct choice of door hardware from the external door handle to the furniture accompanying it.
Here at SDH, we offer a wide range of door hardware to complete the look of your home; whether that be traditional, classic or modern, and contemporary. Our selection of door handles, pull handles, and furniture to go with it are available in many different styles and finishes, from our modern SOX range to traditional Devoran and classic Dart collections; we have products to suit every home.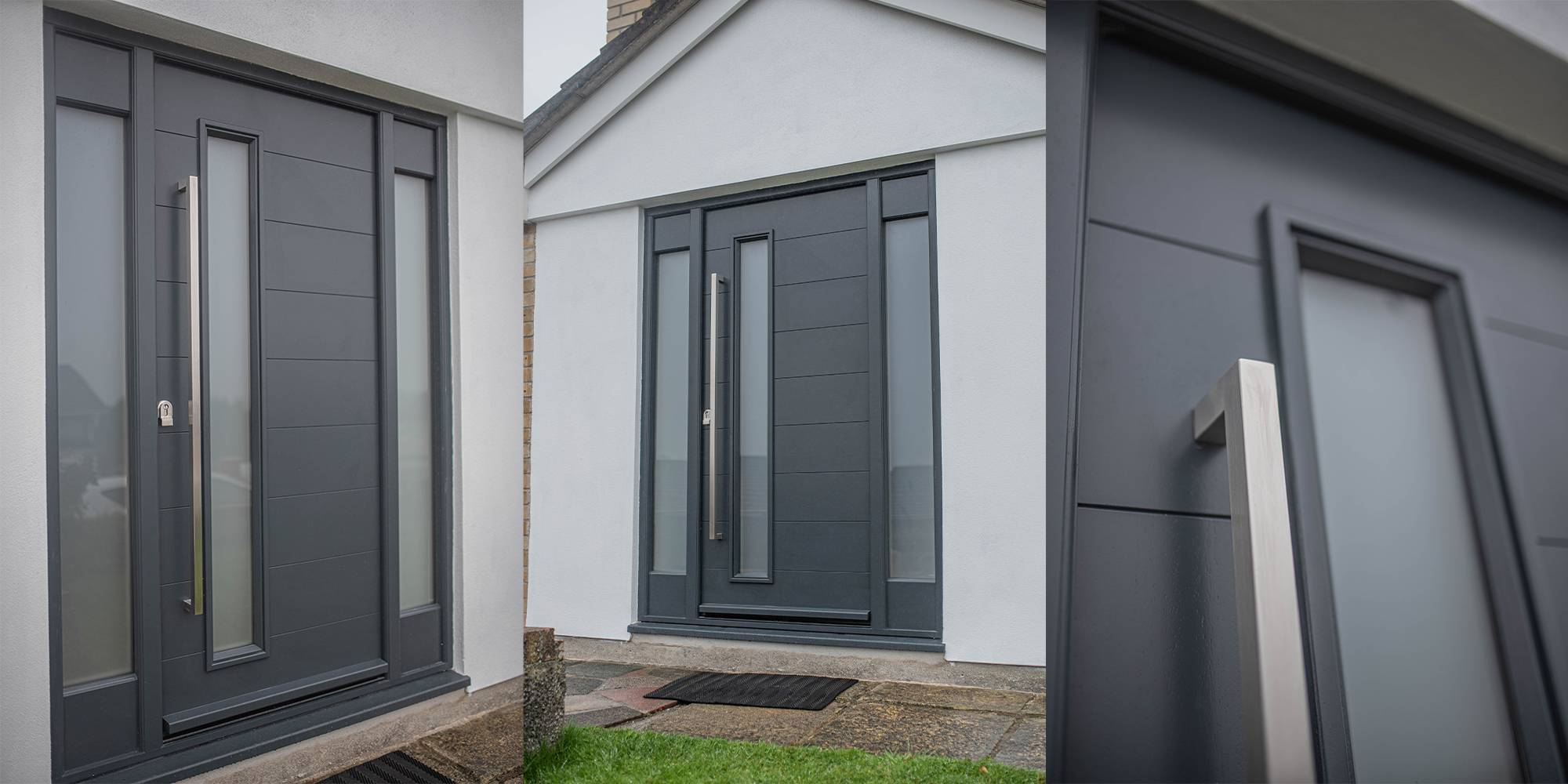 ​​​​
First impressions are absolutely everything, and the front door is arguably the first thing noticeable about any home. The entrance to your home is the first encounter for anyone visiting and that's why you want to make a good first impression on the neighbours, amazon couriers or, friends and family. However, the door hardware market is dominated by many different options to choose from when it comes to styling your front door; from traditional door hardware options such as solid brass lever handles to classic polished doorknobs, it can be overwhelming to make a decision.
It has been suggested that UK homeowners have spent £55billion on home renovations since March 2020 when coronavirus restrictions were put in place. And with so many people looking to create their perfect property, it's no wonder that design trends have evolved with modern and contemporary home styling becoming more popular throughout the UK. Taking a maximalist, stand out from the crowd approach to home design is more on-trend now than ever before and that's where the external pull handle comes in. Often an overlooked option when it comes to front door styling, the pull handle offers a striking finish to any contemporary front door, putting your neighbours to shame with their plain white uPVC door. The stainless-steel pull handle is the perfect solution both practically and visually for a modern front door.
Our SOX Stainless Steel range of External Pull Handles are the perfect enhancement to a contemporary front door, providing a beautiful and brilliant functioning feature. This comprehensive range of SOX Stainless Steel Pull Handles are manufactured using 304 or 316 Grade Stainless Steel meaning they are of the highest quality and offer both a sleek and sturdy finish to your front door. The possibilities are endless with this range of pull handles, choose from a wide range of fixing options, styles, finishes, and lengths to complete your front door.
What are the benefits of pull handles and why should you consider adding this modern, alternative handle to your front door?
Well not only are pull handles a visually striking feature on a front door, but manufactured out of 304 or 316-grade stainless steel, our range of SOX pull handles are strong, sturdy, and high quality, ideal for installation in coastal regions or other areas where corrosion protection is a major concern. The high-grade stainless-steel finish will prolong the life of your pull handle, maintaining its striking quality and superior aesthetic even when exposed to the adverse weather conditions experienced in the UK.​
Security is one of the most important considerations to make when choosing door handles and furniture. The door handle is considered to be one of the weakest parts of the front door, so what makes the pull handle a great choice is the automatic locking feature when a slam shut door lock is fitted. This all-in-one solution it provides you with the peace of mind knowing your home is secure with a pull handle, minimising the chance of the front door being breached.
Unlike lever door handles, the SOX range of stainless-steel pull handles are available in various sizes starting at 400mm to 1800mm, giving you the flexibility to create a bespoke finish to your door. And we know how important it is to get the aesthetic just right, that's why our pull handles are available in pairs or as singles with a range of secure fixings and matching escutcheons to suit your needs.
Choose from:
Bolt through fixing: This fixing requires a small capped bolt that's visible from the interior to hold the fixing in place on single pull handles. (Refer to A in image)
Invisible fixing: This fixing allows for a concealed finish to your front door with no handle on the interior side and the fixing hidden within the door panel. (Refer to B in image)
Back to Back Fixing: This is when two pull handles are fixed to the door panel meaning no fixings are on show but you can use a pull handle on both sides of the door. (Refer to C in image)
And when it comes to design, we know that one design doesn't suit all. We've ensured our selection of SOX pull handles are versatile to meet your design requirements, we have cylindrical or square profiles available in singles or pairs.
Choose from:
SOX 316 Stainless Steel Pull Handle Pair: This design combines a classic and modern design with 316 marine grade Stainless Steel for a high-quality finish at a very competitive price with a cylindrical profile offering a sleek, modern look to your front door both internally and externally (sold as pairs or singles)
SOX Stainless Steel Offset Guardsman Pull Handle: This modern offset design offers a sleek, functional design with no compromise on quality. Made from 304 Grade stainless steel, this pull handle is of high quality and durability to suit a contemporary home with its stylish offset finish. (sold as pairs or singles)
SOX Square Mitered Pull Handle: This square end pull handle will grace your front door with a modern style and functional operation. Finished with high-quality 304 stainless steel, this pull handle offers a sturdy and contemporary design that will last the test of time. (sold as singles or pairs)

​​
Care & Maintenance of your SOX Pull Handle:
Last but not least, care and maintenance are extremely important when it comes to your door handle. The SOX range of pull handles requires consistent care and maintenance to preserve corrosion resistance and maintain appearance. It's all great paying extra for high-quality and grade stainless steel products, but caring for them yourself is just as important.
To prevent the accumulation of dirt from adverse weather conditions and general usage, we recommend washing your pull handle regularly with warm water and mild detergent followed by a rinse with clean water. If this is performed consistently, that should be all the maintenance required to keep your pull handle in tip-top condition.
Fingerprints and grease marks are common as we touch the handle to our front door quite often multiple times each day, to ensure these don't build up and become engrained within the metal, a glass cleaner and microfibre cloth will do just the job to remove these marks and return your handle to its former sleek appearance.
However, if dirt and staining have become established on your pull handle then using a mild non-scratching abrasive powder such as a household cleaner, that isn't bleach or chlorine based, applied with a bristle brush, and washed off with clean water should reduce these stains.
SDH offer a wide range of alternative external door handles and door furniture to suit any home decor style and we can source many different styles and finishes that we don't list on our website. Our range of door hardware is constantly increasing in its offering, so if you cannot find the style or finish you're looking for on our website, feel free to contact our friendly sales team who will endeavour to help source the appropriate product for your perfect property.