The truth about finishes and guarantees
The truth about finishes and guarantees
03 March 2020
There is a lot of misleading information about hardware finishes and guarantees in our industry and we'd like to challenge these. In doing so, we wish to provide Joiners with a reference point, which will help your customers make a more informed decision when choosing their window or door furniture.
Window and door hardware, furniture and hinges in the UK are under constant attack from the elements. Exposure to atmospheric corrosives such as salt and acids, along with possible contaminants picked up during the project development can have a lasting effect on the finish lifespan.Whilst every manufacturer endeavours to produce the best product within a commercial budget, the aesthetic (finish) aspect does NOT come with any concrete guarantees.
SD Hardware has researched almost every supplier and manufacturer of window handles, door handles and hinges and not one will give you a full no quibble guarantee. At best you will be supplied with a free of charge replacement as a good will gesture. They WILL NOT under any circumstances reimburse you (the joiner) for any remedial site visits and labour time involved in changing the hardware.
Why is this?
Firstly these products are made with performance in mind. They are manufactured to perform a primary function. Each product would have been cycle tested, it could have been security tested and in a lot of cases salt spray tested. Salt spray testing is usually a 480hr (20 day) continuous test, how this compares to a year on door near the sea (for example) is hard to equate. So this test is essentially an indicator (not a guarantee) that the product has had an element of finish testing.
What are your options?
Painted finishes generally perform better than polished or lacquered finishes. The reason being, the painted finish is a solid colour/coating as opposed to polished lacquered finishes, which can chip and rapidly tarnish between the lacquer and the finish. Un-lacquered brass is becoming a more popular option due to the fact you can buff the product back to its original state. Stainless Steel in either 304 or 316 grades are mainly resistant to tarnishing, however on occasion they have been known to tarnish slightly.
Cleaning
Most manufacturer guarantees will have a reference to care of the product. This predominantly recommends that products are cleaned with a lemon based mild soap solution and dried with a soft cloth once a month or every 2 weeks in coastal locations. At no point should any form of cleaning agents be used. This action will prolong the finish lifespan of the product.
Guarantee limitations
Our guarantee will be limited solely to the replacement of the item purchased. There will be no liability for remedial work in replacing said product/products. This is inline with all of our suppliers/manufacturers.
Recommendations
At SD Hardware we'll always inform and educate the market as best we can. Therefore we strongly suggest at the planning stage of any project, your customer is made aware you will source robust hardware that will function and be secure, but with the best will in the world the product finish may and probably will tarnish over time, especially in coastal regions.
How we can help
We have produced a finishes fact sheet that we are happy to share with you. Feel free to include this in your quotes and marketing literature to help your customers make an informed decision.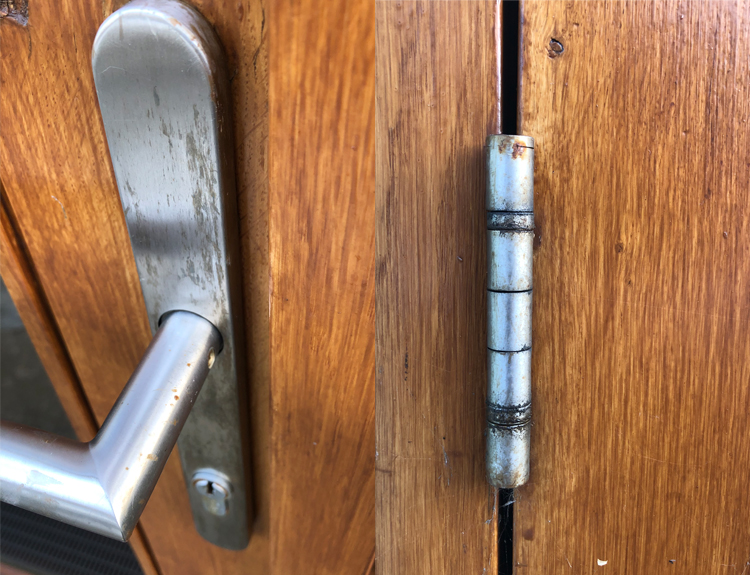 PLEASE NOTE: THE HANDLE SHOWN IN THE IMAGE ABOVE, IS BEING SOLD BY A COMPETITOR AS HAVING A 'LIFETIME GUARANTEE'... AS YOU CAN SEE FROM THE IMAGE, THIS OBVIOUSLY ISN'T TRUE AND AT BEST A FREE REPLACEMENT WILL BE PROVIDED.

ALSO THE HINGE IN THE IMAGE DOES NOT HAVE CONCEALED BEARINGS HENCE THE CORROSION FROM LEAKING LUBRICANT.

VIEW OUR SOX 316 HINGE HERE TO TACKLE THIS PROBLEM.